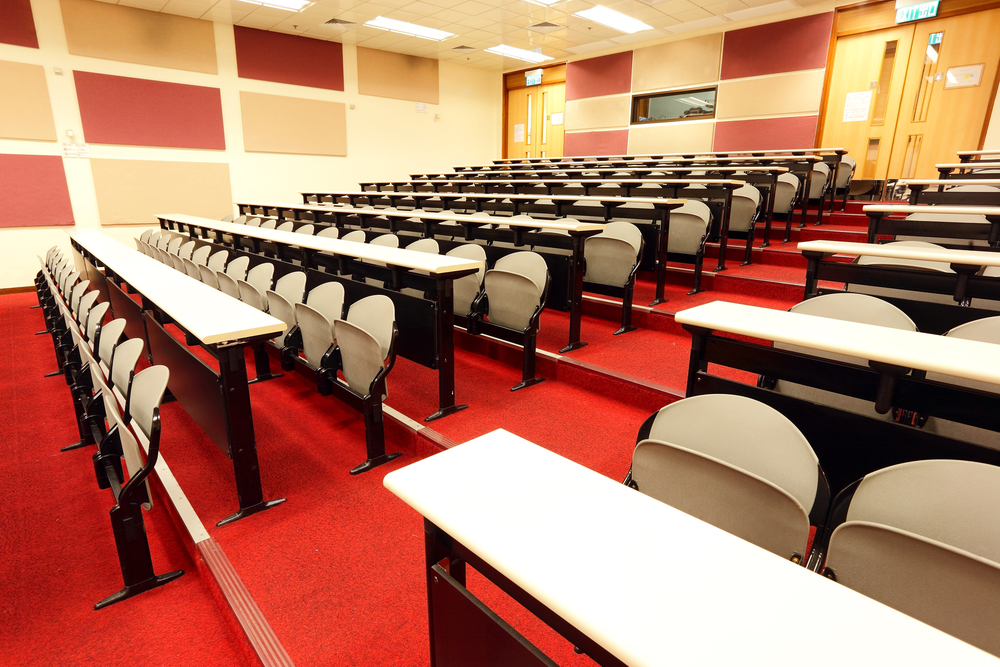 University of New England finished in a tie for 93rd in a ranking of best medical schools for research by U.S. News that examined 120 campuses around the nation.
The Biddeford school's full-time tuition was $56,730. It enrolls 706 full-time students.
U.S. News surveyed 185 medical schools engaged in research that were accredited either by the Liaison Committee on Medical Education or the American Osteopathic Association. A total of 120 schools responded with the data required for the study.
The schools were rated for eight indicators, including student selectivity, faculty-student ratio, research activities by faculty members and a quality assessment.
---
Top Medical Schools for Research
| | | | | |
| --- | --- | --- | --- | --- |
| Rank | School | City | Tuition | Enrollment (Full-time) |
| 1 | Harvard University | Boston, MA | $61,600 (full-time) | 712 |
| 2 | Johns Hopkins University | Baltimore, MD | $53,400 (full-time) | 476 |
| 3 (tie) | Stanford University | Stanford, CA | $58,197(full-time) | 494 |
| 3 (tie) | University of Pennsylvania (Perelman) | Philadelphia, PA | $57,884 (full-time) | 587 |
| 5 | University of California-San Francisco | San Francisco, CA | $34,977 (in-state, full-time | 645 |
| 6 (tie) | Columbia University | New York, NY | $61,146(full-time) | 620 |
| 6 (tie) | University of California-Los Angeles (Geffen) | Los Angeles, CA | $35,187 (in-state, full-time) | 713 |
| 8 | Washington University in St. Louis | St. Louis, MO | $65,044 (full-time) | 492 |
| 9 (tie) | Cornell University (Weill) | New York, NY | $57,050 (full-time) | 414 |
| 9 (tie) | Mayo Clinic School of Medicine (Alix) | Rochester, MN | $55,500 (full-time) | 307 |
| 9 (tie) | New York University (Langone) | New York, NY | N/A | 481 |
| 12 | University of Washington | Seattle, WA | $36,549 (in-state, full-time) | 1,090 |
| 13 (tie) | Duke University | Durham, NC | $59,100 (full-time) | 503 |
| 13 (tie) | University of Pittsburgh | Pittsburgh, PA | $56,004 (in-state, full-time) | 579 |
| 13 (tie) | Yale University | New Haven, CT | $61,140 (full-time) | 391 |
| 16 (tie) | University of Chicago (Pritzker) | Chicago, IL | $55,440 (full-time) | 362 |
| 16 (tie) | University of Michigan-Ann Arbor | Ann Arbor, MI | $37,540 (in-state, full-time) | 717 |
| 16 (tie) | Vanderbilt University | Nashville, TN | $55,608 (full-time) | 397 |
| 19 (tie) | Icahn School of Medicine at Mount Sinai | New York, NY | $52,682 (full-time) | 557 |
| 19 (tie) | Northwestern University (Feinberg) | Chicago, IL | $59,986 (full-time) | 666 |
| 21 | University of California-San Diego | La Jolla, CA | $33,855 (in-state, full-time) | 526 |
| 22 | Baylor College of Medicine | Houston, TX | $29,900 (full-time) | 723 |
| 23 | University of North Carolina-Chapel Hill | Chapel Hill, NC | $30,437 (in-state, full-time) | 788 |
| 24 (tie) | Case Western Reserve University | Cleveland, OH | $63,262 (full-time) | 938 |
| 24 (tie) | Emory University | Atlanta, GA | $50,000 (full-time) | 556 |
| 26 | University of Texas Southwestern Medical Center | Dallas, TX | $19,654 (in-state, full-time) | 905 |
| 27 (tie) | University of Virginia | Charlottesville, VA | $43,828 (in-state, full-time) | 613 |
| 27 (tie) | University of Wisconsin-Madison | Madison, WI | $34,478 (in-state, full-time) | 740 |
| 29 | Oregon Health and Science University | Portland, OR | $42,636 (in-state, full-time) | 602 |
| 30 (tie) | Boston University | Boston, MA | $60,864 (full-time) | 726 |
| 30 (tie) | Ohio State University | Columbus, OH | $30,690 (in-state, full-time) | 778 |
| 30 (tie) | University of Alabama-Birmingham | Birmingham, AL | $28,410 (in-state, full-time) | 814 |
| 30 (tie) | University of California-Davis | Sacramento, CA | $37,686 (in-state, full-time) | 442 |
| 30 (tie) | University of Colorado | Aurora, CO | $39,364 (in-state, full-time) | 722 |
| 30 (tie) | University of Southern California (Keck) | Los Angeles, CA | $62,964 (full-time) | 757 |
| 36 (tie) | Brown University (Alpert) | Providence, RI | $61,244 (full-time) | 590 |
| 36 (tie) | University of Rochester | Rochester, NY | $56,800 (full-time) | 422 |
| 38 (tie) | Albert Einstein College of Medicine | Bronx, NY | $52,145 (full-time) | 771 |
| 38 (tie) | University of Cincinnati | Cincinnati, OH | $31,182 (in-state, full-time) | 708 |
| 38 (tie) | University of Iowa (Carver) | Iowa City, IA | $36,382 (in-state, full-time) | 595 |
| 38 (tie) | University of Maryland | Baltimore, MD | $36,375 (in-state, full-time) | 650 |
| 38 (tie) | University of Utah | Salt Lake City, UT | $39,281 (in-state, full-time) | 501 |
| 43 (tie) | University of Florida | Gainesville, FL | $32,744 (in-state, full-time) | 544 |
| 43 (tie) | University of Minnesota | Minneapolis, MN | $38,628 (in-state, full-time) | 1,012 |
| 45 (tie) | Dartmouth College (Geisel) | Hanover, NH | $63,080 (full-time) | 403 |
| 45 (tie) | University of California-Irvine | Irvine, CA | $33,855 (in-state, full-time) | 429 |
| 45 (tie) | University of Massachusetts-Worcester | Worcester, MA | $35,500 (in-state, full-time) | 617 |
| 48 (tie) | Georgetown University | Washington, DC | $52,037 (full-time) | 796 |
| 48 (tie) | Indiana University-Indianapolis | Indianapolis, IN | $34,979 (in-state, full-time) | 1,426 |
| 50 (tie) | University of Illinois | Chicago, IL | $46,359 (in-state, full-time) | 1,317 |
| 50 (tie) | Wake Forest University | Winston-Salem, NC | $58,823 (full-time) | 510 |
| 52 (tie) | University of Connecticut | Farmington, CT | $36,932 (in-state, full-time) | 425 |
| 52 (tie) | University of Miami (Miller) | Miami, FL | $44,107 (full-time) | 797 |
| 52 (tie) | University of South Florida | Tampa, FL | $29,175 (in-state, full-time) | 716 |
| 52 (tie) | University of Texas Health Science Center-Houston (McGovern) | Houston, TX | $16,509 (in-state, full-time) | 984 |
| 56 (tie) | Stony Brook University-SUNY | Stony Brook, NY | $43,020 (in-state, full-time) | 550 |
| 56 (tie) | Thomas Jefferson University (Kimmel) | Philadelphia, PA | $56,851 (full-time) | 1,130 |
| 56 (tie) | Tufts University | Boston, MA | $61,918 (full-time) | 846 |
| 56 (tie) | University of Hawaii-Manoa (Burns) | Honolulu, HI | $36,672 (in-state, full-time) | 290 |
| 60 (tie) | George Washington University | Washington, DC | $60,250 (full-time) | 728 |
| 60 (tie) | Medical College of Wisconsin | Milwaukee, WI | $54,050 (full-time) | 972 |
| 60 (tie) | Medical University of South Carolina | Charleston, SC | $33,586 (in-state, full-time) | 743 |
| 60 (tie) | Temple University (Katz) | Philadelphia, PA | $55,246 (full-time) | 829 |
| 60 (tie) | University of Texas Health Science Center-San Antonio | San Antonio, TX | $14,877 (in-state, full-time) | 858 |
| 65 (tie) | University of Arizona-Tucson | Tucson, AZ | $31,652 (in-state, full-time) | 485 |
| 65 (tie) | University of Nebraska Medical Center | Omaha, NE | $33,500 (in-state, full-time) | 525 |
| 67 (tie) | University of Kansas Medical Center | Kansas City, KS | $37,891 (in-state, full-time) | 858 |
| 67 (tie) | University of Vermont | Burlington, VT | $36,340 (in-state, full-time) | 466 |
| 67 (tie) | Virginia Commonwealth University | Richmond, VA | $31,208 (in-state, full-time) | 824 |
| 70 (tie) | Rush University | Chicago, IL | $54,000 (full-time) | 537 |
| 70 (tie) | University of Texas Medical Branch-Galveston | Galveston, TX | $18,386 (in-state, full-time) | 954 |
| 72 (tie) | Hofstra University | Hempstead, NY | $50,680 (full-time) | 396 |
| 72 (tie) | Saint Louis University | St. Louis, MO | $54,300 (full-time) | 717 |
| 72 (tie) | University of Kentucky | Lexington, KY | $37,396 (in-state, full-time) | 575 |
| 75 (tie) | Rutgers New Jersey Medical School-Newark | Newark, NJ | $40,274 (in-state, full-time) | 752 |
| 75 (tie) | Rutgers Robert Wood Johnson Medical School-New Brunswick | New Brunswick, NJ | $40,274 (in-state, full-time) | 757 |
| 75 (tie) | University at Buffalo-SUNY (Jacobs) | Buffalo, NY | $43,020 (in-state, full-time) | 673 |
| 78 (tie) | University of New Mexico | Albuquerque, NM | $15,978 (in-state, full-time) | 423 |
| 78 (tie) | University of Oklahoma | Oklahoma City, OK | $24,752 (in-state, full-time) | 658 |
| 78 (tie) | University of Tennessee Health Science Center | Memphis, TN | $35,006 (in-state, full-time) | 681 |
| 78 (tie) | Wayne State University | Detroit, MI | $32,761 (in-state, full-time) | 1,182 |
| 82 | University of Missouri | Columbia, MO | $29,447 (in-state, full-time) | 408 |
| 83 | Texas A&M Health Science Center | Bryan, TX | $15,150 (in-state, full-time) | 675 |
| 84 (tie) | Augusta University | Augusta, GA | $28,358 (in-state, full-time) | 942 |
| 84 (tie) | Drexel University | Philadelphia, PA | $57,248 (full-time) | 1,043 |
| 84 (tie) | University of South Dakota (Sanford) | Sioux Falls, SD | $30,772 (in-state, full-time) | 276 |
| 84 (tie) | West Virginia University | Morgantown, WV | $30,402 (in-state, full-time) | 432 |
| 88 | University of Central Florida | Orlando, FL | $25,491 (in-state, full-time) | 490 |
| 89 | University of California-Riverside | Riverside, CA | $34,290 (in-state, full-time) | 245 |
| 90 (tie) | Eastern Virginia Medical School | Norfolk, VA | $31,820 (in-state, full-time) | 601 |
| 90 (tie) | Texas Tech University Health Sciences Center | Lubbock, TX | $15,616 (in-state, full-time) | 729 |
| 90 (tie) | University of South Carolina | Columbia, SC | $42,084 (in-state, full-time) | 388 |
| 93-120 (tie) | Central Michigan University | Mt Pleasant, MI | N/A | 104 |
| 93-120 (tie) | East Carolina University (Brody) | Greenville, NC | $20,252 (in-state, full-time) | 326 |
| 93-120 (tie) | East Tennessee State University (Quillen) | Johnson City, TN | $32,190 (in-state, full-time) | 279 |
| 93-120 (tie) | Edward Via College of Osteopathic Medicine | Blacksburg, VA | $45,500 (full-time) | 2,005 |
| 93-120 (tie) | Florida Atlantic University (Schmidt) | Boca Raton, FL | $28,111 (in-state, full-time) | 247 |
| 93-120 (tie) | Florida State University | Tallahassee, FL | $22,408 (in-state, full-time) | 483 |
| 93-120 (tie) | Howard University | Washington, DC | $45,254 (full-time) | 457 |
| 93-120 (tie) | Lake Erie College of Osteopathic Medicine | Erie, PA | $33,620 (full-time) | 2,256 |
| 93-120 (tie) | Lincoln Memorial University (DeBusk) | Harrogate, TN | N/A | 943 |
| 93-120 (tie) | Marshall University (Edwards) | Huntington, WV | $21,972 (in-state, full-time) | 309 |
| 93-120 (tie) | Michigan State University College of Human Medicine | Grand Rapids, MI | $30,740 (in-state, full-time) | 832 |
| 93-120 (tie) | Michigan State University College of Osteopathic Medicine | East Lansing, MI | $45,935 (in-state, full-time) | 1,232 |
| 93-120 (tie) | Nova Southeastern University Patel College of Osteopathic Medicine (Patel) | Fort Lauderdale, FL | $59,385 (full-time) | 1,001 |
| 93-120 (tie) | Ohio University | Athens, OH | $35,456 (in-state, full-time) | 983 |
| 93-120 (tie) | Oklahoma State University | Tulsa, OK | $25,797 (in-state, full-time) | 456 |
| 93-120 (tie) | Rocky Vista University | Parker, CO | $54,980 (full-time) | 900 |
| 93-120 (tie) | Rowan University (Cooper) | Camden, NJ | $62,369 (full-time) | 371 |
| 93-120 (tie) | Rowan University School of Osteopathic Medicine | Stratford, NJ | $40,135 (in-state, full-time) | 744 |
| 93-120 (tie) | Texas Tech University Health Sciences Center-El Paso | El Paso, TX | $15,616 (in-state, full-time) | 416 |
| 93-120 (tie) | Touro University California | Vallejo, CA | $55,200 (full-time) | 545 |
| 93-120 (tie) | University of New England | Biddeford, ME | $56,730 (full-time) | 706 |
| 93-120 (tie) | University of North Dakota Grand | Forks, ND | $31,130 (in-state, full-time) | 305 |
| 93-120 (tie) | University of North Texas Health Science Center | Fort Worth, TX | $13,078 (in-state, full-time) | 921 |
| 93-120 (tie) | University of Pikeville | Pikeville, KY | $46,035 (full-time) | 540 |
| 93-120 (tie) | University of Toledo | Toledo, OH | $31,950 (in-state, full-time) | 709 |
| 93-120 (tie) | West Virginia School of Osteopathic Medicine | Lewisburg, WV | $21,472 (in-state, full-time) | 841 |
| 93-120 (tie) | Western University of Health Sciences | Pomona, CA | $57,825 (full-time) | 1,352 |
| 93-120 (tie) | Wright State University (Boonshoft) | Dayton, OH | $34,894 (in-state, full-time) | 480 |
Source: U.S. News